We provide remote support for our customers via TeamViewer 
Step 2: Run
Click Run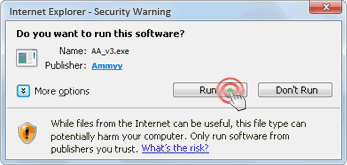 Click run and accept the security warning if prompted.
Can't get the download to work, try downloading the app manually download TeamViewer
.
Sometimes we need your Internet IP details, if asked please give us the details in the table below:

 FAQ's
Is it safe for me to install the software?
Yes, as each time the software (remote control) is run a new  pass code is generated.

What do I do once I'm finished with my remote session?
Once you are finished with the remote session, you can simply close the software and then delete the program from your desktop and your computer is safe from any one trying to access the system via TeamViewer.
Should I uninstall the software once I'm finished with my remote session?
This is up to you, should you wish to keep the software on your desktop, at no risk.  As there is no installation, simply delete the software from the desktop. Upon request from our support dept. you might be required to re-download this software again.